Countermeasures
for Infectious Diseases
As a precautionary measure against infectious diseases, the facility is currently closed to the following guests both domestic and international.
I. Guests who have traveled from abroad within 14 days of their stay
I. Guests who have symptoms of fever, cough, or cold within 14 days of their stay
I. If a family member or close friend is suspected of having an infectious disease within 14 days of their stay
Please check our social media for more information for up-to-date information.
A hotel for adults only.
We wish you a wonderful time with your loved ones!
The original characters of the building have been preserved as much as possible
and the renovation was aimed at creating a comfortable space.
We aim to create a comfortable space where you can enjoy the architecture of the good old days.
Enjoy this building which will continue to evolve in this theme.
An accommodation like this
About Facilities
The latest check-in is at 17:30. Check out is at 10:00.
We cater for individual guests and we cannot tailor for groups and large parties. Children of junior high school age or younger (including infants) are not allowed to stay. This is for adults only.
The stairs are as steep as the stairs in a castle, and there is no elevator. Thank you for your understanding.
The building is in a pure traditional Japanese style, of wooden construction, so a little noise and echoing are inevitable.
Smoking is not permitted in the hotel (including electronic cigarettes).
If you have any food allergies, please contact us 3 days prior to your stay.
Cuisine

Each dish is handmade using fresh local ingredients. From the Kobe beef/ Tajima beef cooked using the highly valuable binchotan charcoal, seafood such as the Blackthroat seaperch, etc., and in the winter crab season the crab kaiseki set meals, visitors can enjoy the full course cuisine that each of the four seasons has to offer.
Breakfast
A great morning starts with a great breakfast.
Flavors filled with nostalgia, savor the offerings and allow our dishes to rejuvenate your body and set you up for a great day ahead.

Facilities
About Dining
Shikisai
Dinner and breakfast are served at "Shikisai" on the first floor.
Dinner starts at 18:00 or 18:30 (approx. 2 hours)
Breakfast 08:00 or 08:30 start (approx. 1 hour)
About Private Hot Springs
On the day of your stay, visitors can enjoy a private hot spring. Please let us know your preferred time when you check-in. The next day you will have a separate hot spring for men and women.
| | |
| --- | --- |
| Open hours | 15:00 - 23:00, 6:00 - 9:30 |

Rooms
12 tatami mats + 8 tatami mats Japanese style room + bed (No smoking)
2F Twin Bed

10 tatami mats + 7 tatami mats Japanese style room + bed (No smoking)
3F Twin Bed

10 or 8 tatami mats Japanese style room + bed (No smoking)
on 2F and 3F Twin Bed

6 tatami mats Japanese style room with bed (No smoking) 
One double beds
Note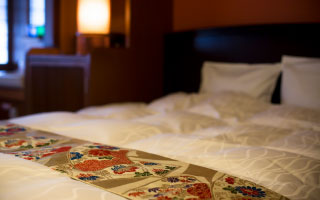 There are 9 rooms. All rooms are furnished with beds by "Slumberland", the bed of choice for the British royal family.
For guests staying in Type A and Type B rooms, a futon is provided for a party of 3 or more people.
All rooms are equipped with a bidet toilet but do not have a bath.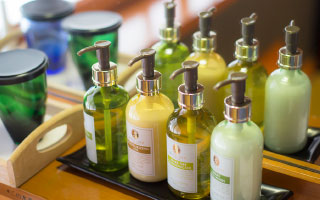 The rooms are equipped with
Wi-Fi
Kettle
Dryer
LCD TV
Safe
Toothbrush
Towel
Telephone
Refrigerator (empty)
Mineral water
Bath towel
Humidified air purifier
Japanese style yukata pajama
Independent heater and cooler
AKAZU no MA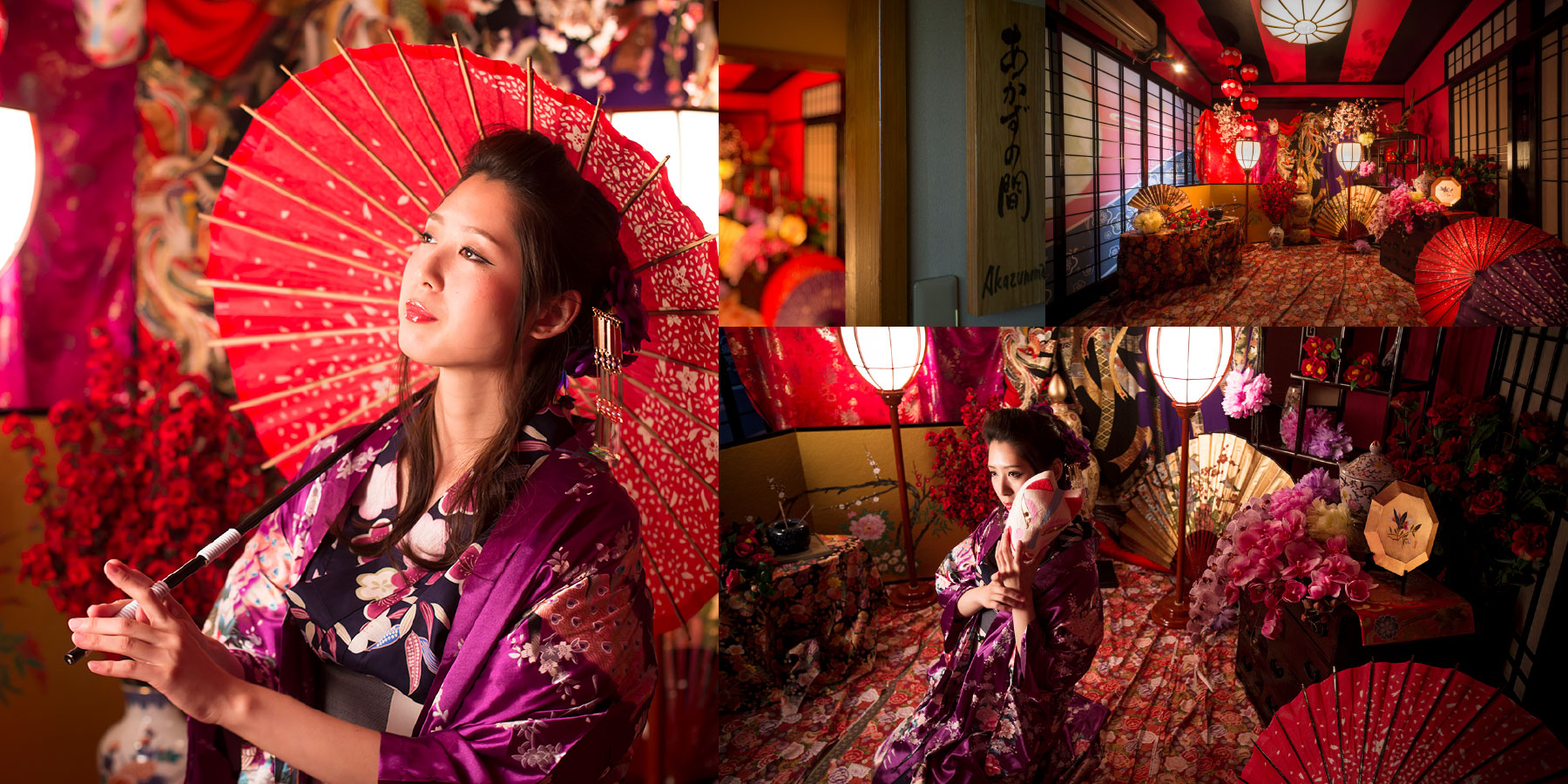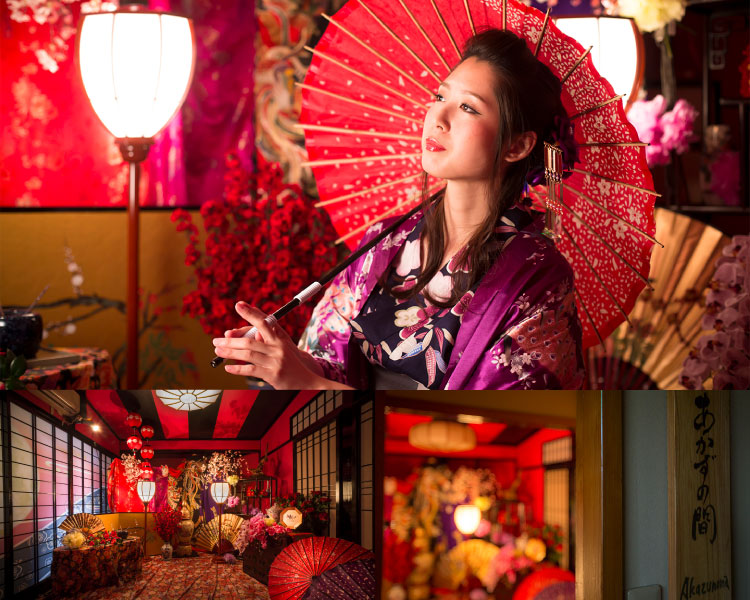 Guide
There is only one room in the inn that guests are not allowed to stay in, and that is the "AKAZU no MA" photo studio.
One of the fun features of the hotel.
*Available free of charge for overnight guests. Please let us know when you check-in.
*We provide hair ornaments and costumes, but we do not have make-up and other equipment.
Kinosaki Onsen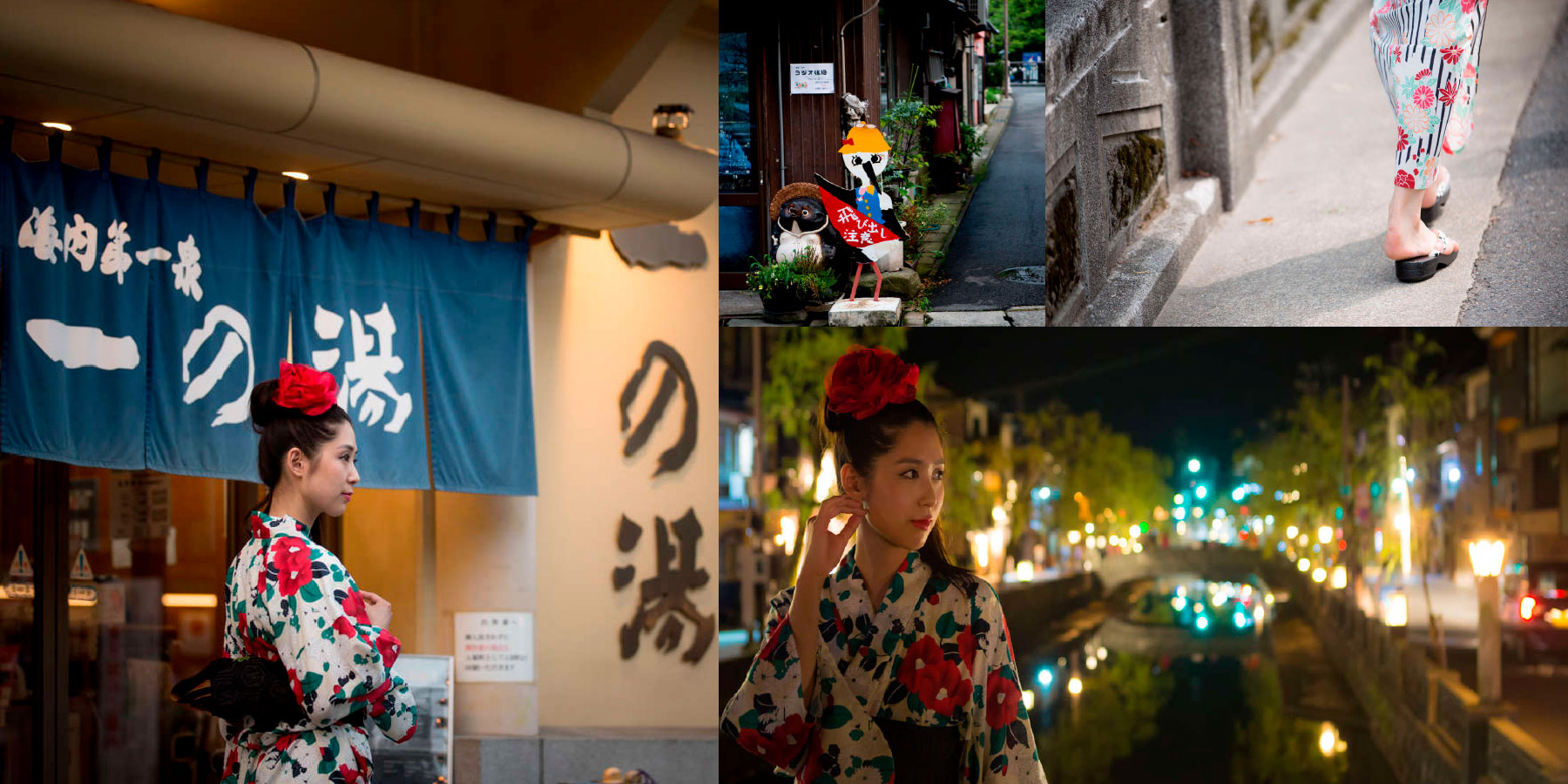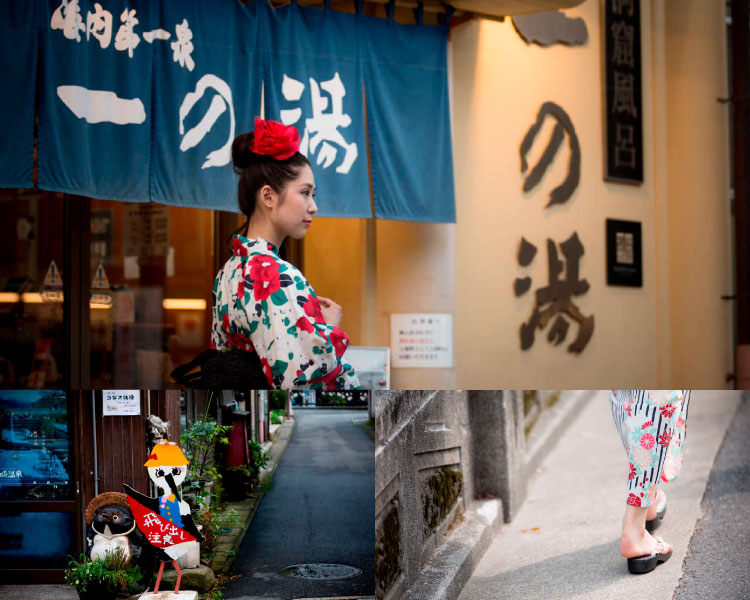 Kinosaki Onsen is renowned for its outdoor hot spring baths. Wear a yukata, slip on a geta (wooden clogs) and visit the famous hot springs.
We offer all our guests a free ticket to enjoy these hot spring baths during your stay valid from check-in to check-out.
For ladies, a wide variety of colorful yukatas, hair ornaments, and Japanese accessories are available to rent. Look amazing and enjoy the stroll around the hot springs.
Access
By Plane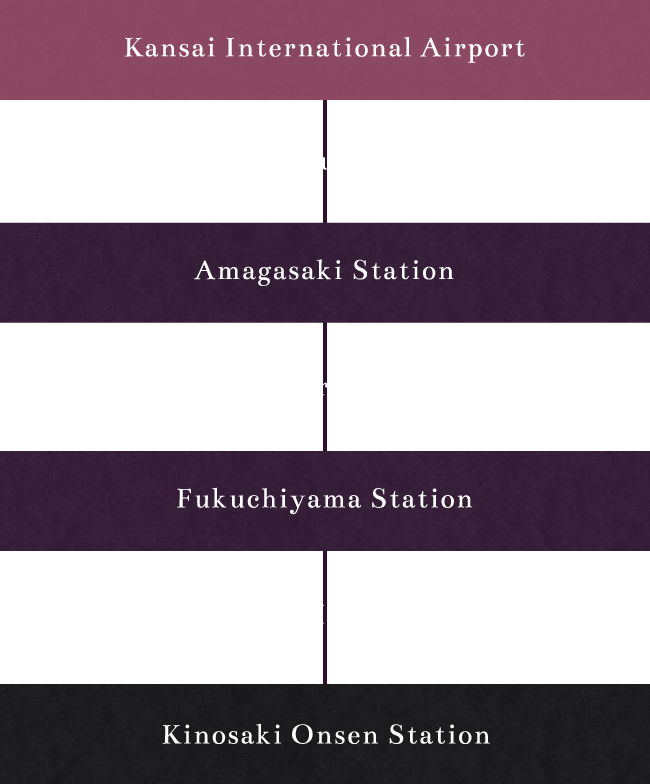 By Train


By Car